Events
Presentation of Credentials of Her Excellency Angela Tierney, High Commissioner of Australia to Nauru
On Friday 5th January the new Australian High Commissioner to Nauru, Her Excellency Ms Angela Tierney, presented her Credentials to His Excellency President Baron Waqa at the office of the President.
Ms Tierney was received by the Commissioner of Police for the playing of the National Anthems and Inspection of the Guard of Honour.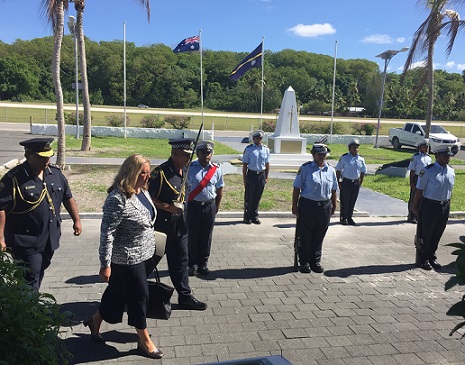 As well as the presentation of credentials and an introductory meeting with President Waqa, the new High Commissioner also made courtesy calls on Hon. Shadlog Bernicke, Minister for Telecommunications; Hon. Aaron Cook, Minister for Utilities; Hon. Asterio Appi, Deputy Speaker; and Mr Michael Aroi, Secretary for the Department of Foreign Affairs and Trade.
In the evening the President hosted a well-attended dinner in honour of the occasion at the Anibare Restaurant, Menen Hotel.
There were performances from a local dance troop as well as a song by His Excellency's all male singing group.
High Commissioner Tierney gave a speech acknowledging the mutual and continuous relationship between Nauru and Australia, saying she looks forward to a successful tenure on Nauru in an exciting and significant year, with the 50th Anniversary of Independence and hosting of PIF 2018 Summit. The President also gave a speech welcoming High Commissioner Tierney to Nauru and expressing that he looked forward to working closely with the new High Commissioner.
It was a very enjoyable night for all who attended.